Turning Browsers into Buyers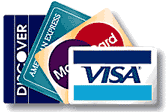 Need to take credit cards online? Learn how to easily accept credit cards at your website (including secure servers) in 3 simple steps.
Click here for more info.
Internet Marketing Center has partnered with TMS, specializing
in helping companies like yours' establish payment solutions for
virtual storefronts by getting set up to securely accept credit cards
and checks on the world wide web.
Increase your sales by as much as 317% or more by accepting credit cards at your website.
Learn how to Accept VISA, MasterCard, Amex, and Discover at your website in 3 easy steps.


Confused on how to accept credit cards at your website?
Click here to learn about e-commerce and a company that
can set up EVERYTHING for you, so you can start taking
credit cards online, hands free.